When you go off to college, you leave a lot behind. Yes, of course you miss your family and friends but who do you miss the most? That lovable ball of fur never judged you and snuggled with you when you were sad. Your cat. If you have a best friend that misses their furry best friend, look at this awesome list for the purrfect gift. Or, treat yourself.
These 10 cat gifts remind you of your furry friend back home no matter where you go. 
Do your dorm room walls look empty and feel like a prison cell? Spice it up with some awesome kitten wall décor—a move that will have you feline good. This wall decor will for sure make you smile every time you see the cute, little kitty cat when you walk in the door. "I love decoration with my cat calendar hanging on my desk and my roommate has awesome decorations and stuffed animal kitten," Lebanon Valley College freshman Morgan Ernst said.
Raise your hand if you feel personally attacked by your college. Why do we always have so much to do all the time? Everyone from professors, parents and friends throwing responsibilities on us leads to forgetful mistakes. But, have no fear. Post-It Cat will be your ultimate best friend for the rest of the year. When you're drowning in work, writing these reminders will make your life a little more enjoyable.
Sometimes the dining hall gets old and you want to cook a nice meal. Cooking can honestly be such a bore sometimes, especially when cooking alone. If you need a new companion while making your grandma's famous chocolate chip cookies or late-night mac and cheese, look no further. These furry friends measuring bowls makes baking your favorite treat so much more appetizing. With these guys in your kitchen, everyone will line up to cook with you.
Who needs a boyfriend when you have love… from a cat, of course. This gift reminds your bestie that you love her and so does your cat. If you want, matching ones in both dorms would make for some best friend and cat goals. This smaller decoration will even fit on those tiny desks the university gives you.
No one wants to drink by themselves. Save yourself or your best gal pal from loneliness and get them this glass. Drinking wine with the girls, or… the cat, honestly beats going out to the crowded bar. Pop open a glass of champagne and take a sip with the best cuddle buddy out there—your cat.
Feeling a little lonely without your cat curled up between your legs? This pink and sparkly pillow might not replace your cuddly best friend but it could substitute until you get to go home. The pillow reverses, so it will match with something. "I miss my cat so much. He always slept in my bed and made me warm," Kennesaw State freshman Roz Talbert said.
This mug perfectly intersects the two major loves of over-caffeinated cat ladies or gents. Everyone morning, the fabulous black cat on this mug greets you. "I love drinking green tea out of my funny mug," University of San Diego freshman Zia Yurchuk said. You can sip on this cat mug while scrolling through pictures of your cat. Sounds like a  morning where you can boost up enough energy for nine lives.
Who doesn't want a caffeine fix in the morning? If the coffee mug didn't spark your interest, this kitty tea cup might. It holds 14 ounces of your favorite brew and resists the heat of your brew. Better yet, you can take it with you on trips to the beach or somewhere fun. If you're constantly on the move, you should definitely invest in this purchase.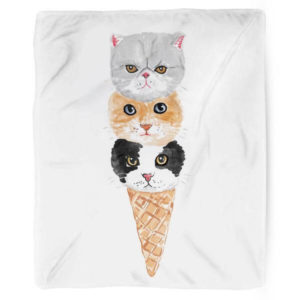 The stress of classes sometimes requires a night in. When you feel down, have a relaxing night without leaving the house. Grab your kitty blanket and relax on the couch. "I used to cuddle with my cats back home and nothing is the same," said Nassau Community College freshman Colleen. Cat lovers that love to cuddle will have trouble shedding this blanket for public outings. Nothing could ever replace a the kitty cuddle buddy, but the blanket does for right meow.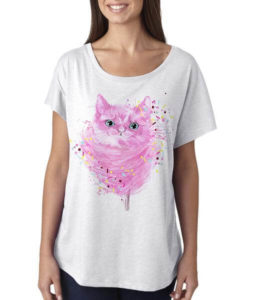 Nothing shows devotion like a statement tee. Sport your cat lover pride with this totally lovable cat apparel. "My grandma gave me a white shirt with three rainbow cats on it. I wear it to sleep and it is my favorite. I would buy another one," University of Pennsylvania freshman Gabrielle A. said You can be styling in class without trying too hard. Plus, you can be comfortable for that class that's a couple hours too early for you. Even better—you and your best friend could match if you buy it together.